Every pack of Symphony spread is a music sheet.
Made with care and a commitment to producing a consistent flavour that is intense and rich for your enjoyment.
Buy Now
our ingredient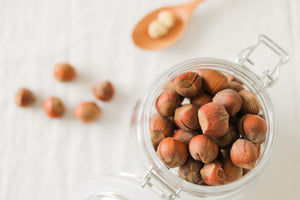 Italian Piedmont Hazelnut
Our hazelnut, sourced from the finest Piedmont, Italian supplies. The raw hazelnuts are sent to the factory as soon as they are selected in batches, maximizing the freshness and quality. The raw hazelnuts are subsequently subjected to a process of roasting, until the nuts reach a desired shade of caramel. They are then ground and grind into finest particles.
Dark Chocolate
 Our chocolate, with its notable deep brown color is proudly origin from Malaysia, creating the opportunity to tap into local ingredient resources. A pure and intensely dark cocoa body with slightly bitter hint results excellent roundness in the mouth.
Japanese Black Sesame
Our black sesame, grown by the world's best growers from Japan. It goes through a multi-step process to carefully sort and clean the seeds. The seeds are then undergo deep roasting until nuanced and nutty flavour is released. The freshly roasted black sesame seeds are immediate putting on ceramic grinder and grind for multiple times until smooth paste developed.
Finest Ingredient, Classic Taste
The perfect balance of a full-bodied dark chocolate and a pure hazelnut paste are artfully mixed according to our proprietary recipes to reveal its potential and its unique qualities. By merging both hazelnut and chocolate in traditional and modernist approaches to create chocolate with distinctive and consistent flavours. 
Lovely & Convenient Packaging
The packaging enhances the convenience of consuming by only squeezing without SPOON or STIRRER. Sometimes, less means more. The blank space on the packaging allows you to create your own packaging. Cutie sticker attached to boost your creative idea to limitless possibilities. Let your spread no longer be ordinary but unique.
Efficient Delivery
Symphony spread is packed in customize bubble mailer to protect product from damaging. Make-To-Order. Symphony promise to blend and dispatch within 36 hours for every order. We not only delivering good product, but also a remembered taste.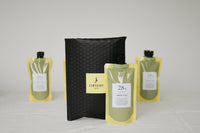 Reviews
Love the chocolate spread. Tastes better than Nutella. Those who like dark chocolate should definitely get it! It's not too sweet and it's easy to spread.

Ezther Sin
Amazing product.Sugar level is just right and neither the dark chocolate nor the hazelnut overpowers the other. Consistency is on point too!It definitely feels healthier than the commercial stuff.Plus points for the cute packaging! Recommended

Raissa Ramsahye
Their Chocolate Hazelnut Spread is so indulgent but at the same time can taste the dark chocolate and also hazelnut! Yum yum! And it so convenient that I only need to spread it on my bread without using my cutlery, good for lazy people like me haha Thank you yo!

Bella
The spread does suit my liking..as a dark chocolate person, chocolate spread is really not my kind of tea..But your spread is definitely not sweet and hint of nutty taste..

Bidadari
I love your spread! The taste of hazelnut is thick and the most amazing thing about your spread is IT IS NOT SWEET and it really taste good.

Yin Cheng
Yes, I like your spread very much. The texture is really smooth and can really smell and taste the hazelnut and chocolate at the same time and most importantly it is less sweet so I can have it more without gaining any guilty and fats!

Celine Tan
Bungkusan terbaik Rasa sedap!

Alif Mustafa
The taste of the spread is just so good!! No so sweet and full of the smell of hazelnut AMAZING!

Esther Yap
Recommend to chocolate lover like me! Love the sticker 2~

Jade Wong
Our suppliers are certified with